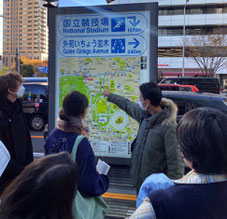 The Fourth Architectural Heritage Seminar took place in Meiji Jingu Gaien on 2 December. The seminar students, together with students from Professor Shimoda's Architectural Heritage Laboratory, examined visual impact assessment on this site.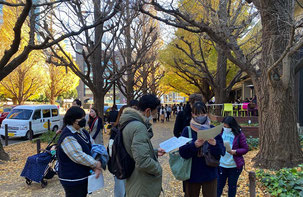 The design of the Jingu Gaien Garden is based on the design trends of the City Beautiful Movement of the early 20th century and is a representative cultural landscape of modern Japan, the prototype of the Modern Urban Landscape Garden. the Jingu Gaien Garden is the only place in the world where a row of four rows of ginkgo trees has a history of more than 100 years.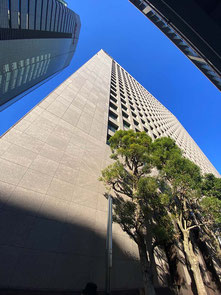 ICOMOS JAPAN has released the recommendations as a result of the capital redevelopment plan for the area. The plan to abolish the urban planning park area, which is already being used as a rugby and baseball field, and construct a private skyscraper will take 10 years to complete, and the application of the "Park Community Development System" is contrary to the original purpose of the system, which is "to realise park functions as quickly as possible", and will deprive citizens of valuable parks.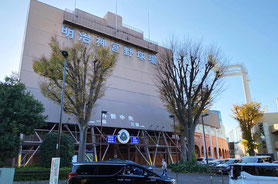 The application of the "Park Community Development System" is contrary to the original purpose of the system, which is to "realise the functions of parks as soon as possible", and deprives citizens of their "public space" on a long-term and permanent basis. The plan should be reviewed and the cultural landscape of Jingu Gaien should be preserved by, for example, rebuilding the Chichibunomiya Rugby Stadium on site.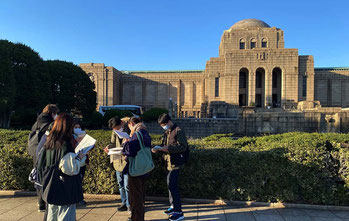 Therefore, the seminar aimed to examine Meiji Jingu Gaien Park and analyse the practical implementation of the ICOMOS recommendations for the redevelopment of the area.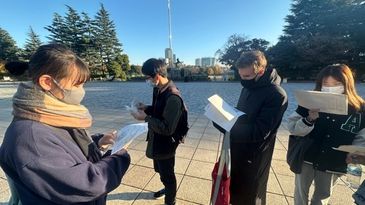 During the seminar, the students followed a designed route and inspected the area to be re-developed.  After the survey, different opinions were expressed about the redevelopment plan prepared by ICOMOS. The students noted that the height of the new buildings would probably have a strong impact on the landscape and the perception of the people.
A park on the site of the sports fields could compensate for the lack of green space for recreation in Tokyo, but the relocation of the stadium might contradict the city's vision of accessible sports.  All workshop participants also agreed that there is not enough information about the redevelopment, as it is not possible to fully present the proposed project on the ground.
The ICOMOS proposals will be discussed in the planned meeting on 20 December 2022 by ICOMOS Japan. We are expecting to the further discussion and reconsidering the proposed plan.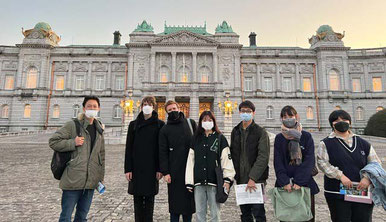 After visiting to Jingu Gaien Garden, we visited to State Guest House AKASAKA Palace, and ended this series of this site lectures.
Reported by Anton Sidorov (D1)