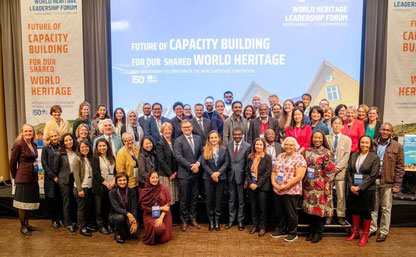 On September 21 and 22, the World Heritage Leadership Forum was held in the historic place of Bryggen, a World Heritage-designated area in Bergen, Norway.
This Forum celebrated the renewal of the capacity-building programme called World Heritage Leadership (WHL) towards a second phase and the outcomes of capacity-building programs in the context of the 50th anniversary of the 1972 World Heritage Convention.
The WHL programme is jointly run by the International Union for Conservation of Nature (IUCN) and the International Centre for the Study of the Preservation and Restoration of Cultural Property (ICCROM), with the support of Norway's Ministry of Climate and Environment and in collaboration with UNESCO and the International Council of Monuments and Sites (ICOMOS).
Its first phase focused on the development of resources for the management of World Heritage sites, which most remarkable outcomes include the Guidance and Toolkit for Impact Assessment in a World Heritage context.
The event invited heritage specialists, professionals, and scholars from different regions affiliated to Advisory Bodies to the World Heritage Committee, UNESCO, World Heritage Category 2 Centres and World Heritage site management to reflect on the impacts of capacity-building programs in World Heritage management, conservation, and education.
The Forum's program entailed sessions of presentations by participants, group discussions and a round table of Action Planning for the future of World Heritage capacity-building. I had the privilege to participate as a representative of the World Heritage Young Professionals Forum 2021, which is part of the UNESCO World Heritage Education Program.
 (reported by Claudia Uribe, D3)