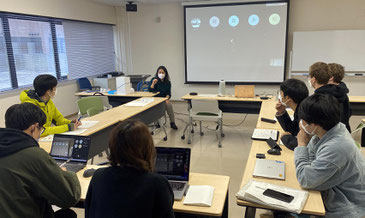 On October 20 and 27, I taught lectures on contemporary issues of built heritage conservation as part of a Teaching Fellowship in Prof. Ichita Shimoda's graduate course on Architectural Heritage at the Heritage Studies Program of the University of Tsukuba. If we see 'heritage' from its processes, wouldn't we be able to discuss conservation issues beyond the conventional factors affecting cultural properties?
This was the guiding and inviting question of the lectures. Following a historical and social approach to heritage, the two sessions explored the background of material heritage conservation thought and practices from the era of modernity to contemporary times, with a focus on archaeological heritage; and conservation problems identified in case studies.
The first session addressed the heritage phenomenon from a theoretical and historical perspective, as to understand the philosophies, concepts, and ideologies that underpin global practices of conservation, national heritage protection systems and international regimes. The objective was to identify the roots of the conflicts and bottlenecks of heritage management. In the second session, students presented case studies on problems of built heritage conservation from Japan, China, Austria, Hungary, and Russia. Building on these cases, the class discussion focused on the roots of conservation issues and conflicts, the perspectives of different stakeholders, measures implemented and the possible solutions forward.
A common topic of reflection was the paradox of heritage-development: it aims to protect material heritage while improving living conditions but fails to effectively fulfill both and brings instead sustainability issues. Some persistent issues, historically ingrained, relate to hasty top-down interventions with no consultation with local populations, insufficient landscape planning, and unforeseen impacts of tourism-based development on the commercialization of historic places and the affectation of local livelihoods. Addressing these problems in class-based discussion is an invitation to rethink heritage practices, define our critical stance and foster venues for the incubation of innovative ideas in the future.
(Reported by Claudia Uribe, D3)